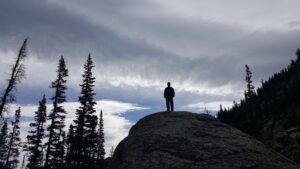 Many years ago when I was a young man new in the corporate world met a fellow that was just about to retire. I remember he was super old like 55 or something (I am 50 now) and had a plan to hike the Appalachian trail. I do not recall his position with the company but I am sure it was not an executive level or anything like that.
Learning that I was a new parent, he decided to give me some advice on how to have a happy career and retire early. He told me a story about a high school friend of his at a recent reunion that had given him a hard time about not having climbed higher on the corporate ladder.
"I congratulated him on his career success and then asked him a few questions"
"How many times have you been married?"
"How many kids do you have?"
The answer was 3 with two from the first marriage and 1 from the current
"Do you pay alimony and child support"
"Do you see your kids every day?"
"No, my first wife has remarried and lives in a different city"
"Are you going to be able to retire on your own terms and with money in the bank?"
You can kind of see where the conversation was going. My new buddy told me that early in life he set his priority to be the best husband and best father that he could be. He on purpose then passed on job opportunities and promotions that would have taken him away from his primary mission.
In the organization, he was at this time, not a CEO or anything like that but he was a high-level manager with a lot of responsibility. He was also very respected by his team and I could tell was a solid leader.
He had a career that was well done.
Along the way, he lived a conservative lifestyle, gave of his time freely to others, and invested heavily in his family. The bonus reward for all these choices was just around the corner as he was about to embark on a grand adventure to follow his dreams. The man just oozed joy and this 20-minute conversation really changed my perspective on life.
Twenty years later I still remember that conversation and the impact it had on me. Looking back I am happy with the choices I have made along the way with my family, finances, and career. Yes, there have been many mistakes along the way but overall life is good. Looking forward, we are on our way to our next stages of dreams and that path I pray will be as full of joy as that I saw in the face of this man.
Life is going to be full of choices, I learned on that day to decide who I wanted to be and to not pay a price for success by losing things that were far more important and long-lasting.
Know your values. Know your goals and never waiver.