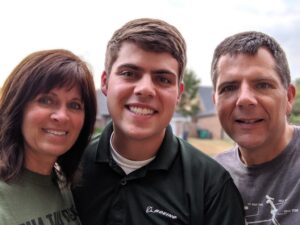 The time is now
Conner is starting his final fall semester of college and will essentially be done with his degree at the end of this semester. The spring will bring his capstone class, graduation and the start of being fully on his own.
It is the dream of every parent for their child to grow up and exceed the life they have lived. We want our children to have an amazing life with a good job, a loving family, financial success, adventure, service to the community and a heart for God.
I grew up without strong dreams for all of these things and yet somehow ended up blessed to have much of them. Could I have done more and could I have been more? Absolutely! Nonetheless, we have done our best to live our lives as a positive example for our son and fully expect that he will move on to excel in his own way on his own journey.
The path to this point has not come without adversity. Conner is a survivor after having experienced the great trama of his cliff accident his senior year of high school. The scars of that time and the rods in his back will stay with him as a reminder that he is different. He is a miracle to be here. The blessing to have survived comes with a positive burden. It will serve him as a reminder of the frailty of life and the responsibility to live it with gusto. Thankfully, I know he understands this burden and will use his story to stay strong and to inspire others.
The truth is that the vast majority of people take the easy path and chose to be average. Being different is hard. It kind of sucks at times to skip the shiny object and instead stay out of debt while saving for a reward that is 20+ years away. It sucks at times to work the extra hours and put in the extra effort when others are just skating by and are getting the same benefits. It sucks at times to pass up time on the couch and instead hit the gym. It sucks at times to spend a day in service of others when instead you could be hanging out and just relaxing. It sucks at times to spend hours a week on your own learning in an effort to grow as a person.
Everything worth having and everything that leads to excellence takes effort and time.
For Conner, we have seen the positive desire to do the work, give the service, and live with a long term mindset during these college years. We have no doubt that his future will have many challenges and opportunities. We also have no doubt that he has the talent and the drive to make his dreams come true and live to the potential that has been intended by God.
I am so very thankful for this moment and for the blessing of being a father to an amazing son and a husband to an amazing wife.
The time is now and the future is bright.