What a time we are living in with the Covid-19 virus hysteria that is in progress where I live and around the country. It seems that things are changing almost minute by minute and for sure what we have been experiencing is historical. There has been a stock market crash, rush to buy goods including toilet paper, "social distancing" requiring events and businesses to close down. Now millions of people are working from home and schools are closed. The list just goes on and on.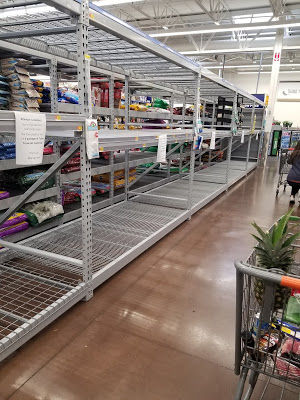 It is not an exaggeration to say this feels very much like a fictional disaster movie.
Group panic and group fear is a real thing. It is not out of the question to imagine people fighting over food items as this has happened already over–toilet paper. Meanwhile, there are even fake news stories out there about things that have not occurred which are intentionally trying to magnify hysteria.
With a state of emergency declared, it would not be surprising to next see for the first time in our lifetime the military out in key areas where panic is possible like hospitals, grocery stores, and critical supply chain locations. Again, this is not a movie or a new Netflix series. It is all real.
All of this for some reason made me think of my wilderness first aid training I took years ago as a Scout leader. In the training, we were taught during a crisis, often the situation is made even worse by poor decisions taken while in a state of distress. Scouts have a great model for this that applies really well in other stress situations especially including what we are experiencing now. When in crises–S.T.O.P.
Sit— Often when there is a crisis in the wilderness the person will panic, take off running, and end up even more lost than before. The key here is to quit moving and take a pause. Often doing nothing is the best way to be rescued. Sounds a lot like staying home in this current situation huh?
Think–Now that a state of calm has been achieved, it is time to do some deep thinking and begin the process of rounding up years of skills, experience, and training to help formulate a plan. There have been many catastrophes throughout history and yet we are still here. This too shall pass.
Observe–This is a critical skill to measure the surroundings to identify and additional dangers that may be in the area and better yet additional resources that may be around to help. Be an optimist but also take care to follow all the guidelines provided but the real experts. This is not a time to make up your own answers about the future and what to do in the present.
Plan–This is where the real work starts. Where others may panic and make the situation worse, now is the time to make a detailed plan for you and your family. No, the sky is not falling but at the same time, you do want to be ready for the impact created by those who think it is.
S.T.O.P.
What we are going through now and for the next several months could be some of the worse times ever experienced in our generation. It is the time to remain calm and know that whatever is happening now and whatever is going to happen will pass.
Years from now, we will all look back and remember how we reacted. These memories can be of how we kept our cool and used our gifts to help those around us or they can be memories of how we contributed to the negativity. Every day is going to be a choice.
Make sure your choices are such that you will be proud years from now when you are sitting joyfully in your family circle to say, "here is what I did when the world went crazy".