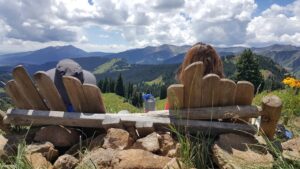 "I have told you these things, so that in me you may have peace. In this world, you will have trouble. But take heart! I have overcome the world." John 16:33
Life is a series of up and downs and if you are not currently fighting a storm I can assure you that one is on the way. It is easy while in the midst of a difficult time to forget all that we have in life to be thankful.
That is one reason that for many years now I have begun most days with a mindset of gratitude. Most mornings and especially on Mondays I make an effort to reflect on the many things I have to be thankful about in my life. How can I have a bad week when there is so much good around me?
I try to affirm daily the good in my life and begin my day with thanks for what I have now and the opportunity to have even more in the future. I do this with a prayer thanking God for the present blessings in my life and for the opportunity a new day represents. Doing so only takes a few minutes of quiet reflection.
Example: 
"Lord today I thank you for ____________ and pray you will lift this person up and bring joy to their day"
"I thank you today for my ________ help me to appreciate it and all the other good things I have in my life."
"Thank you, Lord, for this new day and the new chance to be my best and to serve others. I will honor this blessing today through my actions, my attitude and my results" 
Having gratitude for others is important since we never win alone. Do I have bad days and times when I am grumpy? Absolutely! These are the days when taking a moment for reflection and appreciation mean the most.
The belief in a day of success with a reflective moment on something positive begins momentum the right direction. It is on the days when I do not do this that I tend to falter.
Prayer works for me and may work for you as well. At the very least as you begin your day start it by affirming something and someone positive.
Next state your absolute belief success will follow as you go through your day.
My challenge to you is the try this for a month and see what happens. When negativity creeps into your mind as your day progresses repeat your prayer from the morning and commit to reset your attitude. I know that no matter what storm you are in now or what storm is coming there are things in your life that you have at this moment that you can take 2 – 5 minutes each day to give thanks. Just the fact that you woke up to face another day is a blessing as opposed to the alternative.
Try giving thanks each morning for the next 30 days. You will be amazed at the difference it will make.