I am a long-time listener of the Dave Ramsey show going back to when I first started getting fired up about being out of debt. We hit that milestone several years ago and thanks to his show being available 24×7 now on iHeart radio, I still listen often for motivation and information.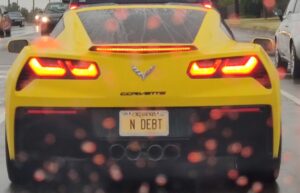 After more than 20 years on the radio, Dave is consistent with his message and his method. Quite frankly, I wonder at times if some of the people calling in with questions have ever actually listened to the show. There are certain callers that every time are ensured to get blasted as they tell about the money mistakes they have made and their non-Dave approved strategies to fix them.
Most recently I was listening when a fellow called in that was asking about what do with his car debt. As a recall, he was making less than $60,000 a year, had little savings, credit card debt, and payments on a $40,000 truck that he had purchased new. Through the radio, I could almost sense Dave's blood pressure rise as he was about to lose it on this guy.
And lose it he did telling the man he had to sell the truck right away even though it would be at a loss and replace it with a beater car to drive until he gets his "mess" cleaned up. Even though this person had called in asking for advice, the man pushed back on the idea of selling the truck at a loss again and again until finally, Dave was able to beat the man into submission and agreement.
"You called and asked my option and that is a dangerous thing to do sir because I will give it to you"
Dave's style for sure is not mine but I certainly understand his anger. What if you discovered that the secret to being out of debt and building wealth was actually not a secret at all? What if you personally experienced the joy winning and realized that just about ANYONE at ANY income could do the same? Wouldn't you be angry that so many people with so much access to the formula listen and do nothing with the information?
The universal truth that you can't help someone that will not help themselves. Most people seem to be living in denial and just are not thinking deeply enough about the future and instead are just concentrating on the present.
I totally get that. For me, it was my cancer experience combined with working for a company with frequent layoffs that finally turned my fear to the debt-free and save for later direction my life became. The thought of being jobless or worse ill with a pile of debt and bills to pay has kept me awake for many nights these last 20 years.
In those early days, there really was no 24X7 access to Dave Ramsey, blogs, YouTube videos, and the vast resources that are readily available now. If you are reading this on your phone, everything you need to learn about how to live a debt-free life and build wealth is right there in the palm of your hand. There really is no excuse.
I think, more than anything, that is why Dave and why many of us are indeed so angry. Looking back, my greatest regret is that it took me so long to transition from a fear-based got to have money for crises to a joy based focus on a WOW future post working. The good news is that now I am awake to all that is possible.
Are you awake? Are you angry yet? If you are not driving to being debt-free with a secure future this is your siren moment. Do not let this moment pass and instead take action.